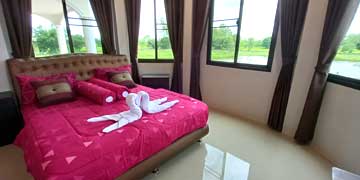 Room 1 - Lakeview Room
This room on the west side of the building enjoys sunset views over our lotus lake.
If you're not an early morning person you will enjoy seeing the open lotus flowers at sunrise from your window without having to leave the comfort of your room and go on a boat cruise.
This room also features a king size bed, air-con, fan, 58" TV, fridge, private bathroom and free WiFi.
See this Room